I saw Alice in Wonderland with my friend on the opening day of the movie this week. Tim Burton's version of wonderland looks amazing, often colorful, but equally often ravaged and desolate. I like this movie although I had to wear two pairs of glasses and the 3D glasses kept slipping from my nose.
Inspired from the Burton's new movie, my post of this week is about green wedding ideas of Alice in Wonderland. They are creative theme wedding ideas and green wedding ideas as my former posts. Hope you like it.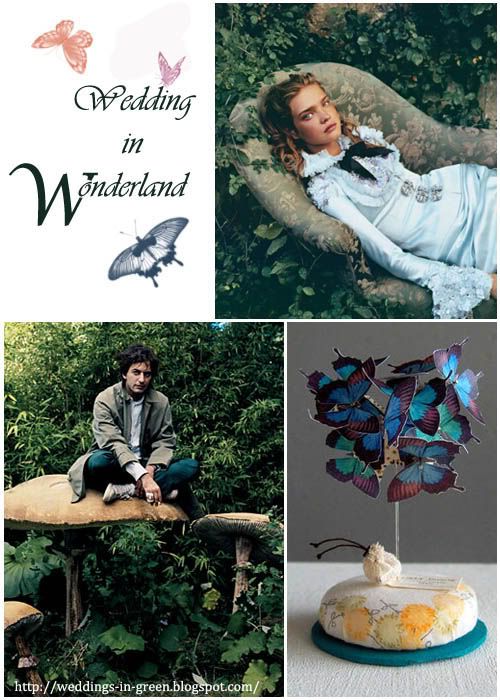 Sources: Annie Leibovitz, Annie Leibovitz for Vogue, Lyndie Dourthe
I like these Alice in wonderland photos that Annie Leibovitz shot for Vogue in December 2003. They are very creative. The designers acted like Alice's friends in the movie and helped her in her adventure. Marc Jacobs as the Caterpillar in this picture. I think almost every couple gets help from their family and friends for their big day.
At the end of the movie, the caterpiller turns into a beautiful butterfly. How adorable this handmade table decor is. Imagining these butterflies flying on your table. Check it out at Lyndie Dourthe.


Sources: The Wedding Chicks, Annie Leibovitz, Brandon Christopher Warren's Flickr,
Charm Bracelet on Esty, The MAD HATTER invitation, Yarayuki's Blog.
Vintage is in and what better way to save precious resources than to re-use. With a little bit of research, you can find some incredible gowns at reasonable prices. Wearing a gorgeous blue ruffled wedding dress, the bride can attend this lovely tea party reception. A tea party recption is a great idea for couples planning an early reception. It's ideal for anyone who is looking for ecological and financial reception (using daylight,less alcohol and less food), but still an unique experience for both the guests and the couple. Remember, always source green for your flowers,invites and food. You might be interested in my older post on Wedding Ideas---Table Decor and Flowers.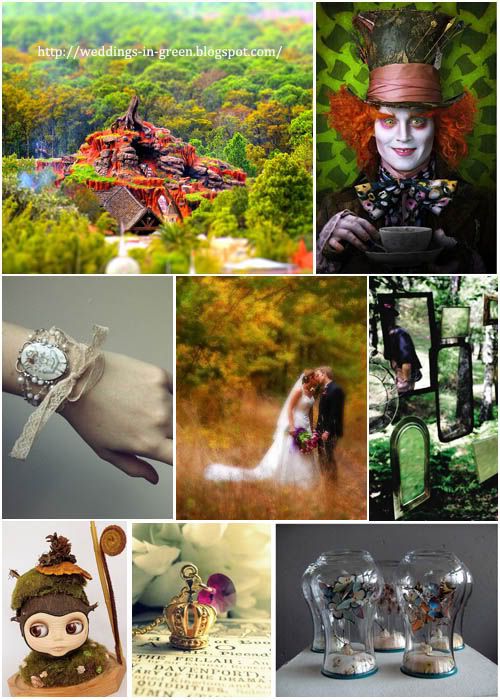 Sources: Express Monorail's Flickr,Bracelet by Brightcolorart and Karolinfelix,
Shelton Muller's Flickr, Style Amor, Dr. Blythenstein's Flickr,
Queen Of Hearts Gold Necklace, butterfly table decor also from Lyndie Dourthe.

Find a fairy tale like place to take your wedding pictures, such as the Australian forest like this. It's not often these colours are seen in Australian forests, but for one shining moment just for you two ...
I decide to post one picture with Johnny Depp because his performance was perfect in this film : ) I like his dance. The red queen's performance was remarkable as well.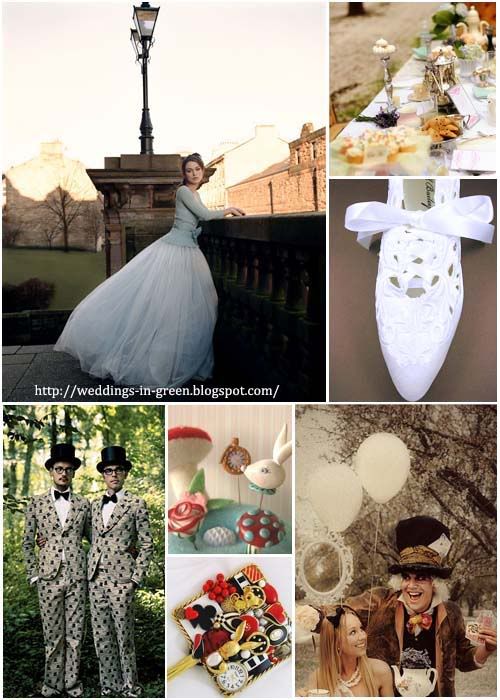 Sources: Fashionbride's Weblog, Tea party pictures from The Wedding Chicks, handmade craft from Esty.


Keira Knightley looks elegant in this blue gown. Are you planning to wear a blue wedding dress?

I would like to mention all these adorable handmade crafts as well. They are small eco-friendly things that can make your wedding as unique as the adventure of our little Alice. Have a nice weekend!