Source:"Cherry Blossom Elegance" Mini-Pillar Candle

History of National Cherry Blossom Festival:
The blooming of the cherry trees around the Tidal Basin in Washington, D.C. has come to symbolize the natural beauty of our nation's capital city. The famous trees, a gift from Japan in 1912, signal Washington's rite of spring with an explosion of life and color that surrounds the Tidal Basin in a sea of pale pink and white blossoms. Thousands of city residents and visitors from across the nation and around the world come here to witness the spectacle, hoping that the trees will be at the peak of bloom for the Cherry Blossom Festival.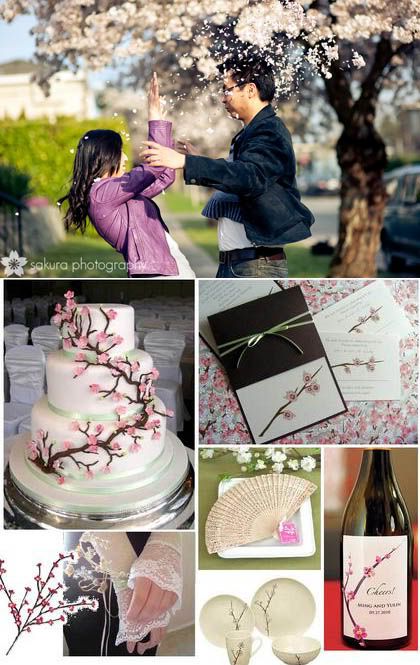 Source: Sakura Photography, Wedding theme: sakura


Spring is in the air, and you can bring it to your table with these beautiful, cherry blossom themes inspired by Japanese Sakura in bloom. You can make this theme as subtle or overpowering as you like, but here are a few item you might want to introduce to your green spring wedding:

Some nice pictures of the bride and gloom together under the cherry trees, a stunning hand-crafted sakura tiered cake, lovely sakura invites from Etsy, customised wine bottles with these cute sakura stickers, cherry blossom crockery,sandalwood fan and pink Cherry Blossom light from blend boutique.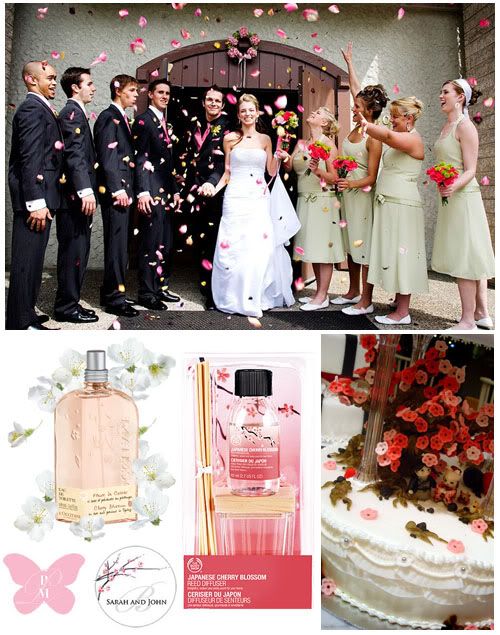 Source:Cherry Blossom Eau de Toilette , Initialed Monogram Sticker, Japanese Cherry Blossom Reed Diffuser, Sakura Wedding Cake

Fill your home with the decadent, light floral fragrance of Japanese Cherry Blossom using a decorative and natural scent diffuser from Body Shop. Get a stunning cake taste as good as it looks. L'OCCITANE Cherry Blossom Eau de Toilette uses the Luberon cherry. The extract obtained is very rich in AHA fruit acids and sugars. It therefore has hydrating properties.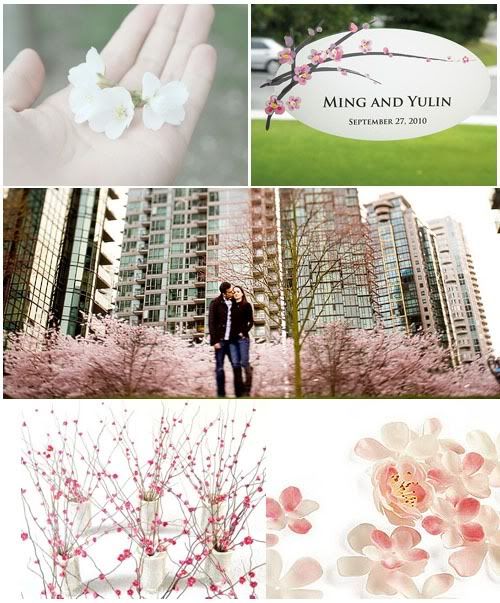 The picture on the top left was taken by me. I like the small flowers. They look so lovely.In Japan, the cherry tree is a symbol of integrity, modesty and courtesy. The unique window cling on the right top can be used on any glass surface. Here is a great way to personalize the windows of your getaway car in a sophisticated manner. Also, consider using these on the windows of church doors or reception halls to help direct your guests. Check out Cherry Blossom Window Cling at Bliss Wedings Market .
The cherry blossoms are so lovely that you may want to decorate your tables with cherry blossoms, don't break the branches of the lovely trees. You can make Origami Cherry/Sakura Blossoms. See the pattern and instruction on Flirty Guide or you can purchase high quality imitation cherry blossoms (sakura) from Bliss Weddings Market. The Silk Cherry Blossom Petals Toss make a lovely flower toss for your cherry blossom wedding! Whether scattered down the aisle by your adorable flower girl, tossed by your wedding guests as you exit or sprinkled on tabletops, the effect is fresh and romantic.
Hey, if you are getting married this spring, why not have a Cherry Blossom theme wedding?